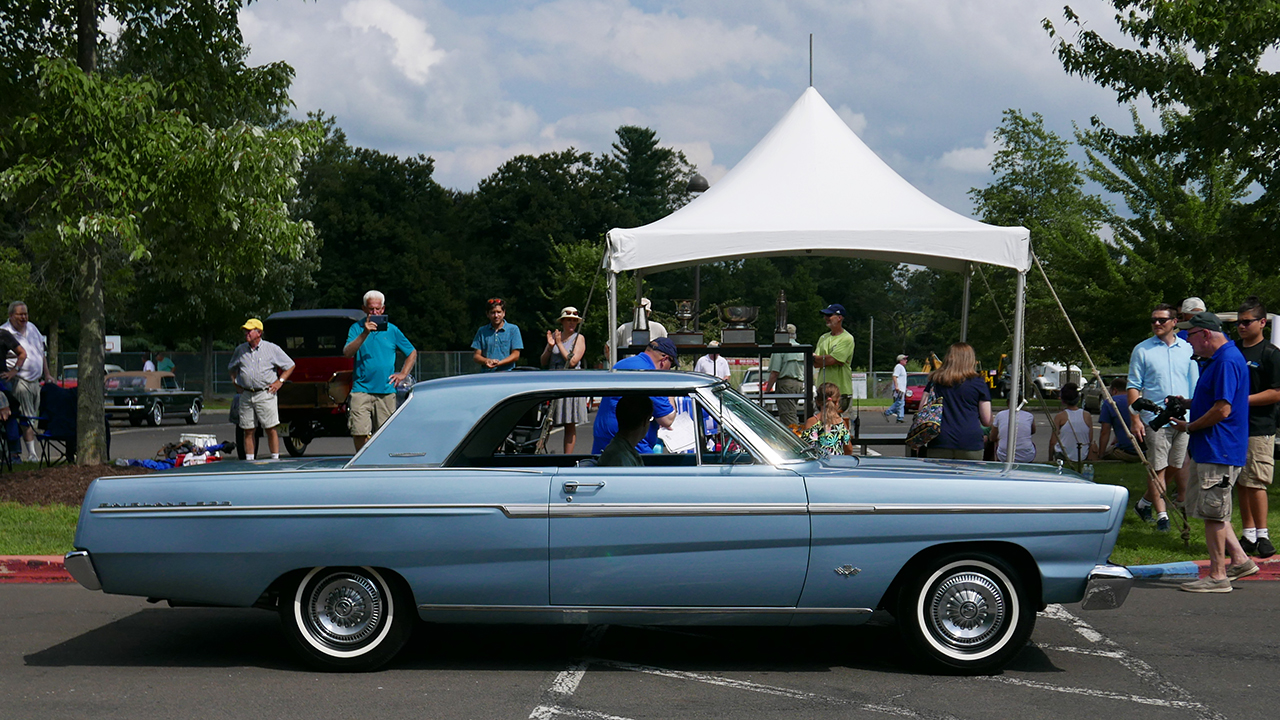 Special awards.
Governor's Cup
Best in Show
Scott Nickett
1965 Ford Fairlane
Burch & Jones Award for Best Corvette
Adam Re 1969 T-Top Coupe
Jack Hopson Award for Best Mustang
Bill Schulz 1964.5 Convertible
Thomas E. Mellon Award for Best Mercedes Benz
Daniel Kelly 1969 280 SL
Seniors
Thanks to all of our Senior Car owners. Your cars are the best of the best! We are proud and honored to have your vehicles exhibited at our show each year.
Jim Ennis 1972 Chevrolet Monte Carlo
Gene Epstein 1952 Bentley
Kevin Keenan 1982 Buick Rivera
Scott Nickett 1965 Ford Fairlane
Frank Peiffer 1953 DeSoto Firedome
William Schulz 1964.5 Ford Mustang
Carl Villone 1978 Lincoln Continental
2018 Winners.
Senior Cars
Honorable Mention – Gene Epstein 1952 Bentley
3rd place – Kevin Keenan 1982 Buick Rivera
2nd place – William Schutz 1964.5 Ford Mustang Convertible
1st place – Scott Nickett 1965 Ford Fairlane
Vintage Antique
1st place – Jim & Nadine Staats 1903 Oldsmobile Sprint Curved Dash
Cars of the 20's – 30's
2nd place – Bill Schroeder 1921 Briggs & Stratton Flyer
Cars of the 40's -50's
3rd place – Joseph Linkewich 1950 Chevrolet Styleline
2nd place – Dale Borneman 1959 Ford Fairlane
1st place – Steven Della Vella 1957 Chevrolet BelAir
Cars of the 60's
3rd place – Richard Bianco 1966 Chrysler Newport
2nd place – Bill Irving 1961 Chrysler 300-G
1st place – Len LaBella 1967 Chevrolet Camaro
Cars of the 70's
3rd place – Stephen Edgerly 1978 Ford LTD Landau
2nd place – James Mann 1971 Chevrolet Chevelle SS
Cars of the 80's
1st place – John Leamann 1984 Pontiac Parisienne
Alfa Romeo Closed Cars
Honorable Mention Bill Conway 1971 GTV
1st place – Wicker Francis 1967 Sprint GT
Alfa Romeo Open Car
Honorable Mention Paul Martin 1974 Spider Veloce
2nd place – Tim O'Riordan 1959 2000 Spider
1st place – Will Albert 1967 Duetto
Antique Trucks
2nd place – Kevin Hamilton 1978 Toyota FS 40
1st place – Robert Bishop Model "T" Pickup
Auburn/Cord/Duesenberg/Pierce-Arrow/Packard
2nd place – EJ Moser 1937 Packard 115C
1st place – Richard Wainwright 1928 Packard Roadster
Austin Healey
Honorable Mention David Siwa 1963 3000
3rd place – Joe Salata 1957 BN4
2nd place – Bill Geissel 1962 3000
1st place – George Baxter 1960 3000
BMW
3rd place – William Clark 1976 BMW 3.0.Si
2nd place – Raleigh James 1987 BMW 325e
1st place – Steve O'Neill 1974 BMW 3.0.Si
Corvair
1st place – Bill Josuweit 1964 Corvair Spyder
Corvette (1963-1967)
2nd place – John Fasano 1967 Convertible
1st place – Stephen Worth 1964 Coupe
Corvette (1968-1973)
3rd place -Raymond Petronko 1973 Coupe
2nd place – Steve Veneziale Convertible
1st place – Adam Re 1969 Coup
Datson/Nissan
1st place – Charles Frijia 1973 Datsun 240z
French Connection
1st place – John Beltrante 1972 Citrogen DS
Foreign Exotic Late
3rd place – Larry DeGiacomo 1973 Maserati Merak
2nd place – Jacob Yasgur 2009 Aston Martin DB9
1st place – James Martin 2014 Aston Martin DB9
Historically Preserved Originals
3rd place – Edward McBride 1980 Cadillac Fleetwood
2nd place – Daniel R. Kelly 1969 Mercedes Benz 280 SL
1st place – Dave & Maryann Stroud 1976 Granada
Jaguar
3rd place – Bill Beiswinger 1969 Jaguar Type
2nd place – Steve Rush 1964 Jaguar XKE
1st place – Noe LaFramboise 1955 Jaguar XK 140
Lincoln Continental
Honorable Mention-Lee Caleen 1972 Lincoln Continental
3rd place – Troy Kasick 1979 Lincoln Mark V
2nd place – Tony Russo 1954 Lincoln Capri
1st place – Lawrence Highbloom 1962 Lincoln Continental
Lotus
1st place – Patricia Marchione 1959 Elite Type 14
Mercedes Benz
1st place – Daniel R. Kelly 1969 280SL
MG
3rd place – Al Kernagis 1980 MG B LE
2nd place – Bill Goble 1953 MG TD
1st place – Alan Brown 1974 MG B
Military Vehicle
1st place – Max Vayzburg 1965 KMZ 750
Model "A"
2nd place – Bill Schroeder 1931 Model "A"
1st place – James Melson 1930 Model "A" coupe
Mustang
Honorable Mention Gary Wilson 1971 Boss 351
Porsche 911
3rd place – David & Mary Penick 1996 911 coupe
2nd place – Kevin Fitzsimmons 1997 911 Convertible
1st place – Gerd Lengfeld 1998 993 convertible
Porsche 912
1st place – Paul Jacobs 1966 Coupe
Porsche 914
3rd place – Tony Alber 1974 LE Targa
1st place – Dave Toppin 1974 914-6 Targa
Porsche 356
2nd place – Leonard Whitlook 1965 SC coupe
1st place – Mark Ridall Super 90 GT
Porsche Front Engine
2nd place – Roger Jones 1989 944 S2
1st place – Gary Gallo 1989 944 Turbo
Rolls Royce/Bentley
Honorable Mention Joseph Post 1988 Silver spur
3rd place – Robert Costello 1987 Corniche II
2nd place – Ed & Lori Ardis 2016 Dawn
1st place – Dave Brown 1961 Silver Cloud
Shelby
3rd place – John Postiglione 1965 Shelby Cobra Tribute
2nd place – John Kaminski 2016 GT 350
1st place – Mauricio Bohmer 2017 GT 350
Specialty Class Cars
3rd place – Don Meluzio 1968 Bizzarrini
2nd place – Paul Farthing 1985 Pinin Farina Spider
1st place – Dan Sarandrea 1986 Bertone x 1/9
Thunderbird
2nd place – John Duffy 1976 Ford Thunderbird
1st place – Wes Levonian 1955 Ford Thunderbird
Triumph
3rd place – Andy Kovacs 1960 TR3 A
2nd place – Joe Kanter 1966 TR4A
1st place – Fred Brown 1972 TR6
TVR
3rd place – Brian Hornbeck 1986 280i
2nd place – Fred Brubaker 1971 2500 Vixen
1st place – Candace Hess 1969 Tuscan V6
Volkswagen
3rd place – Robin Haynes 1956 Beetle
2nd place – Roger Nelson 1967 Beetle Convertible
1st place – Robert Donaldson 1964 Karmann Ghia
Special Interest
3rd place – Thomas Rutkowski 1997 Toyota Supra
2nd place – Mike Bubka 2003 Chrysler PT Cruiser
1st place – Paul Buzzi Sr. 2014 Mercedes Benz SLS AMG GT Gullwing