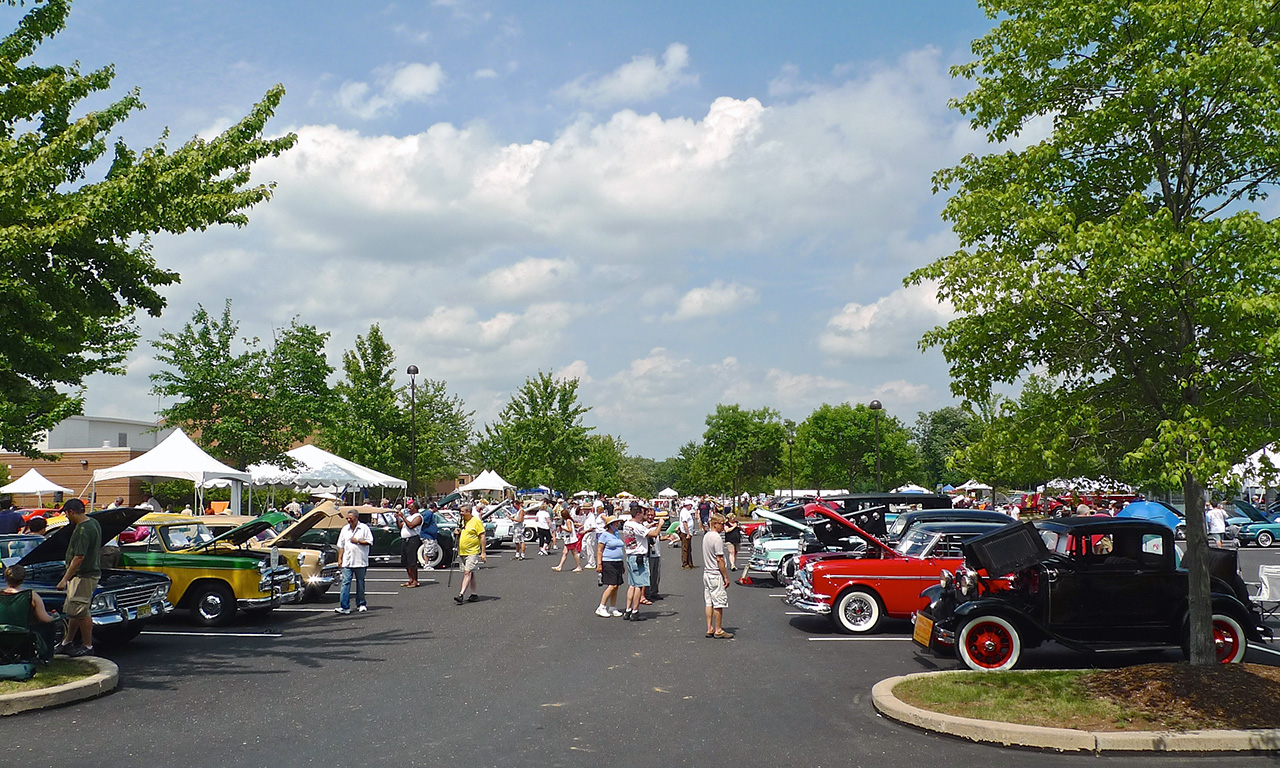 New Hope Helping welcomes you to the 2023 New Hope Automobile Show.
For 66 years, some of the finest antique and classic automobiles in the country have made their way to New Hope, Pennsylvania to be judged for authenticity, originality, cleanliness, and condition. Over the years, The New Hope Automobile Show has drawn up to 10,000 people over the two-day show, all looking to see and appreciate the design and technology of automobile manufacturers from all over the world.
Admission.
General admission tickets are $10.00 per person, children under 12 are free when accompanied by an adult. Active military and their families are free with ID.
All proceeds are used by New Hope Helping to fund local community organizations and charities. Since 1949, we've donated over $1.6 million to local causes and education. Thank you for your support over the years.
Show hours.
The show opens to the public at 9 am each day and closes at 4 pm.
Parking.
On site parking is $5.00 and can be accessed from the Route 202 spur road at Hardy Bush Way. If traveling north on Route 202 it will be just prior to the New Jersey Bridge. If traveling from New Jersey heading south on Route 202 you will take the first exit to Route 32 South just over the bridge, make the second right onto the 202 spur (south). From the center of New Hope follow Route 32 (River Road) North and turn left on the 202 spur (south). Look for the signs on the surrounding roads as you enter New Hope from any direction. Please follow the directions of the traffic police and the parking lot staff.
There is one pedestrian visitor entrance gate on Bridge Street for those walking in from the center of New Hope.
Some regulations for our visitors.
COVID-19 rules and regulations in compliance with applicable federal, state, and local directives, if required, will be in effect at the time of our show.
Respect the Ride. For the car show novice, we encourage you to "Look But Don't Touch!" as you vote for your favorite car. Vehicle owners will be more than happy to answer questions and demonstrate things for you.
In order to reduce the chance of damage to show vehicles, parents are expected to properly supervise and control small children and strollers.
Alcoholic Beverages and Tobacco Use – Because the show is conducted on school grounds, consumption of alcoholic beverages and the use of tobacco products in any form are strictly prohibited at all times. State and local regulations prohibit any exceptions to this policy.
Animals – NO PETS ARE ALLOWED ON SHOW GROUNDS. Trained service dogs are permitted, and are defined as only dogs, regardless of breed, specifically trained to assist a person with a disability. Pets, emotional support, and other animals are NOT permitted.
Bicycles, skateboards, scooters, hoverboards, and other similar personal transportation items are not permitted within the show grounds.
We offer a different show each day.
Saturday is our domestic day. In addition to our regular domestic classes, you'll see Rods, including Hot, Rat, Street, Restomods, and Custom. Saturday will also have a class for Replicars, as well as a Display Only class for those vehicles who don't fit our other classes.
Sunday is our foreign day. All our regular foreign classes will remain virtually the same as at our 2022 show. We've also added a Tuner class and a Display class on Sunday.
Download a copy of our 2022 Program book
We're getting a lot of requests to make our 2022 program book available for download. So here it is. Don't miss the in-depth article about our 2022 featured Ferrari. Download here.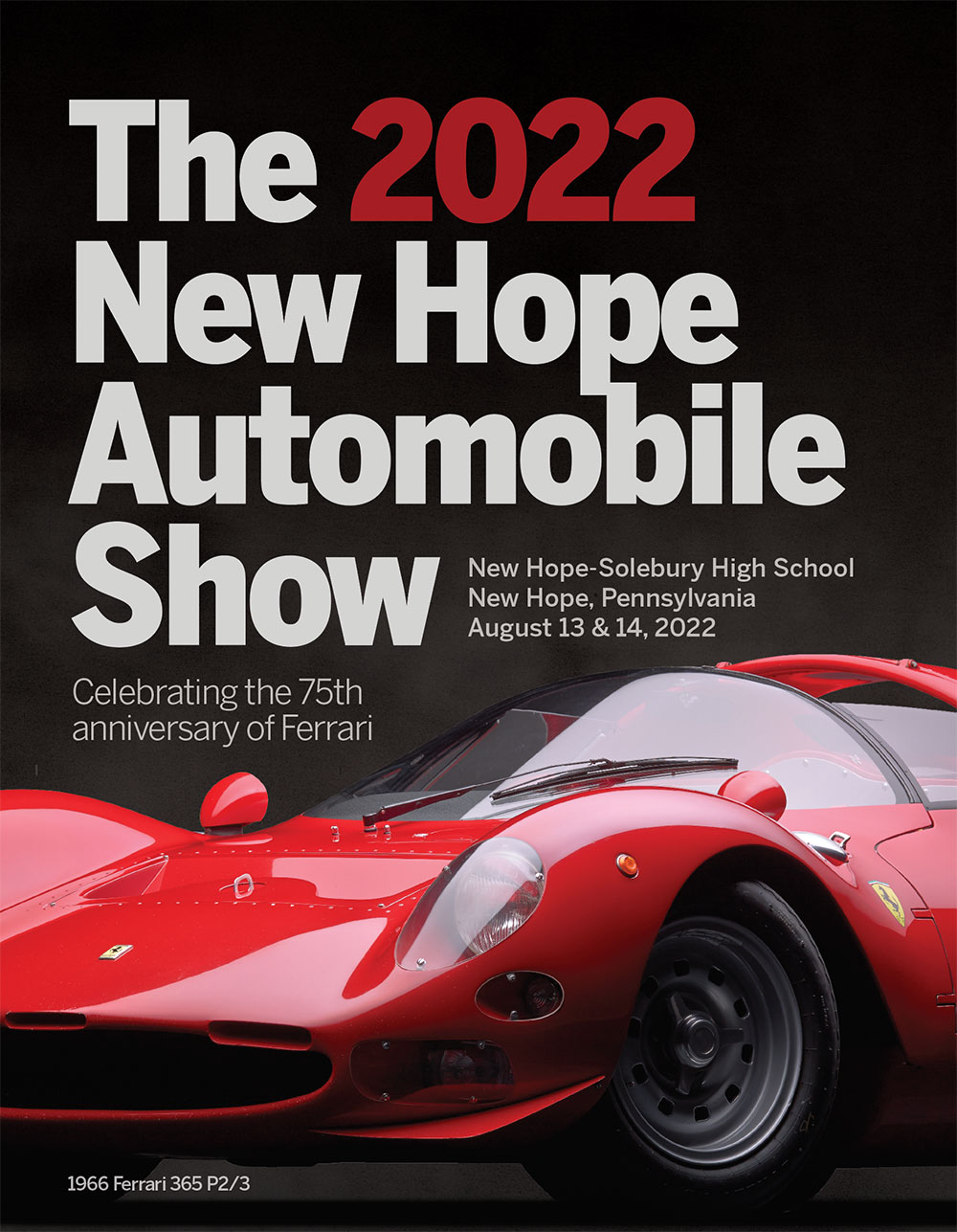 Here are the cars you will see each day.
Saturday, August 12
Domestic Cars
Senior Cars: All national prize winners to 1998 | SR
Brass Era | BE
Cars thru 1919: All makes and models up to 1919 | 00
Cars of the 20s: All makes and models 1920-1929 | 20
Cars of the 30s: All makes and models 1930-1939 | 30
Cars of the 40s: All makes and models 1940-1949 | 40
Cars of the 50s: All makes and models 1950-1959 | 50
Cars of the 60s: All makes and models 1960-1969 | 60
Cars of the 70s: All makes and models 1970-1979 | 70
Cars of the 80s: All makes and models 1980-1989 | 80
Cars of the 90s: All makes and models 1990-1998 | 90
American Motors/Rambler: All to 1998 | AMC
Chevrolet Camaro: All to 1998 | CC
Chevrolet Corvette – C1: All 1953 to 1962 | C1
Chevrolet Corvette – C2: All 1963 to 1967 | C2
Chevrolet Corvette – C3: All 1968 to 1982 | C3
Chevrolet Corvette – C4: All 1984 to 1996 | C4
Chevrolet Corvette – C5: All 1997 to 2004 | C5
Chevrolet Corvette – C6: All 2005 to 2013 | C6
Chevrolet Corvette – C7: All 2014 to 2019 | C7
Chevrolet Corvette – C8: All 2020 to 2024 | C8
Dodge Viper: All to 1998 | V
Fire Apparatus: All to 1998 | FA
Ford GT: All years | FGT
Ford Mustang: All to 1998; stock or restored only | FM
Light Truck/Jeep/SUV: All to 1998 | LTJ

Lincoln: Lincoln, Continental, Zephyr: 1921-1998 | L
Military Vehicles (Foreign & Domestic – Saturday only): All to 1998 | MVD
MOPAR – All to 1998 | MOP
Motorcycles: Harley Davidson: All to 1998 | HD
Other Motorcycle Mfgs (Foreign & Domestic – Saturday only): All to 1998 | FDM
Professional Vehicles: Police, ambulance, hearse to 1998 | PV
Replicars: Replicas of iconic automobiles and sports cars | F
Rods: Hot/Rat/Street, Restomod, Custom | R
Shelby: Original and Continuation Cobras, Series 1, Shelby Ford, Shelby Dodge, Shelby Mustangs all years | SC
Studebaker: All models, including Lark & Avanti – all years | SB
Track Race Cars (Foreign & Domestic – Saturday only): Authentic cars | RCD
Display: Cars not otherwise specified to 1998 | DD
Car Corral: Cars for sale | $

Sunday, August 13
Foreign Cars
Senior Cars: All national prize winners to 1998 | SR
Acura/Honda: All to 1998 | ACH
Alfa Romeo: All to 1997 | AR
Aston Martin: All years | AM
Audi: All to 1998 | AU
Austin Healey: All years | AH
BMW: All models thru 1998 | BMW
Datsun/Nissan/Infiniti: All years to 1998 | DNI
Datsun/Nissan: Z Cars to 1998 | Z
DeLorean: All years | DE
Exotics: e.g., Bugatti, DeTomaso, Pantera, all years | X
Ferrari: All years | FE
Fiat/Lancia/Autobianchi: All years to 1998 | FLA
French Connection: Citroen/Facel Vega/Peugeot/Renault; all years to 1998 | FC
Jaguar: All models thru 1998 | J
KEI and Microcars: All to 1998 | KMC
Lamborghini: All years | LA
Lexus/Toyota: All to 1998 | LXA
Lotus: All years | LT
Maserati: All years | MA
Mazda: All years to 1998 | MZD
Mazda Miata:  All years to 1998 | MIA
Mazda RX-7:  All years to 1998 | MX7
McLaren: All years | MC
Mercedes Benz: All models thru 1998 | MB
MG: All models and years | MG
Mini Cooper: All years to 1998 | MINI
Morgan/TVR: All years | MVR
Porsche 356: All 1948 to 1965 | 356
Porsche (Early) 911, 912: All years | 912
Porsche 964, 993: All 1989 to 1998 | 993
Porsche 996, 997: All 1997 – 2012 | 997
Porsche 991, 992: All 2011 to 2023 | 992
Porsche 924, 944, 968, 928: All years | 928
Porsche 914: All 1969 to 1976 | 914
Porsche Boxster, Cayman: All to 2012 | BC
Porsche Boxster, Cayman: All 2013 to 2024 | PBC
Porsche Sedans and SUVs (NOT JUDGED): All Years | SED
Rolls-Royce/Bentley: All models & years | RR
Saab: All models/years to 1998 | SAA
Triumph: All years | TR
Tuner: limited to extensively modified foreign production cars | TU
Volkswagen: All years to 1998 | VW
Volvo: All Models/years to 1998 | VOL
Display: Cars not otherwise specified to 1998 | DOF
Car Corral: Cars for sale | $