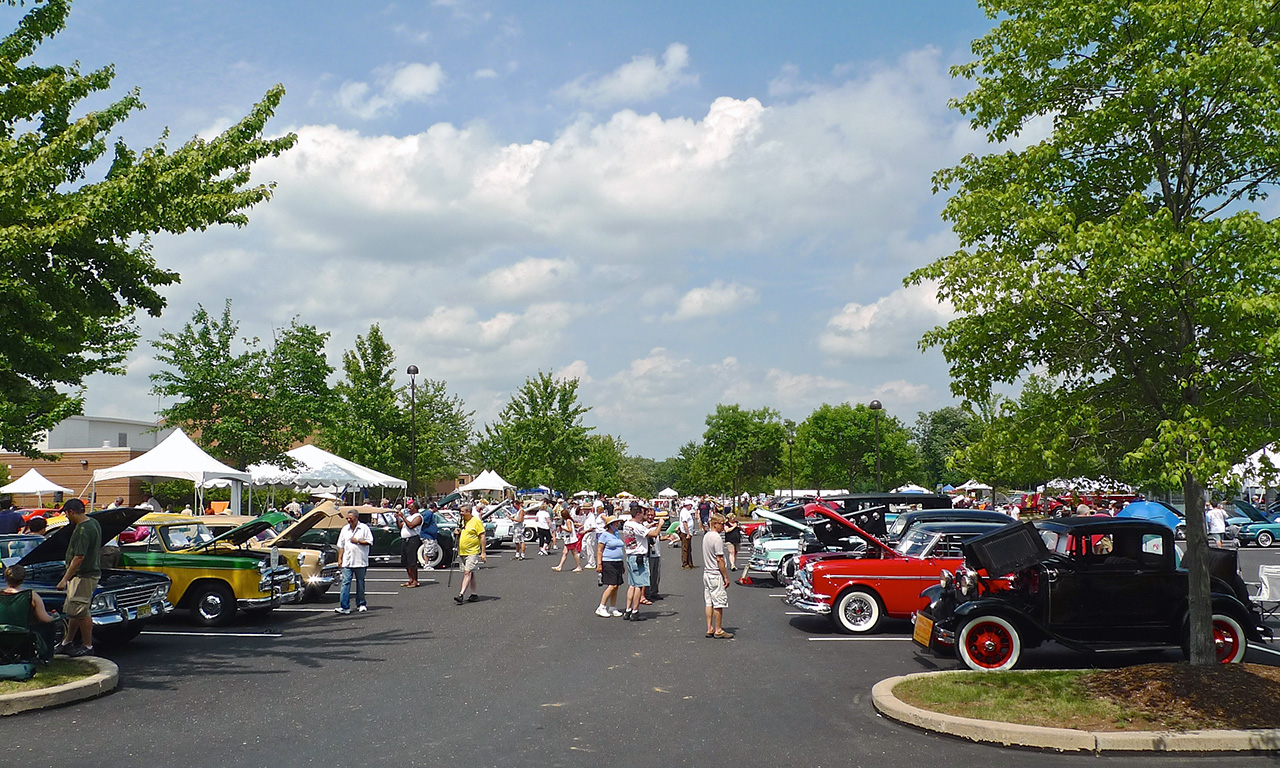 Since 1957 The New Hope Automobile Show has been an annual event produced by the New Hope-Solebury Community Association and held on the campus of the New Hope-Solebury High School.
For 64 years, some of the finest antique and classic automobiles in the country have made their way to New Hope, Pennsylvania to be judged for authenticity, originality, cleanliness, and condition. Over the years, The New Hope Automobile Show has drawn up to 10,000 people over the two-day show, all looking to see and appreciate the design and technology of automobile manufacturers from all over the world.
Admission.
General admission tickets are $10.00 per person, children under 12 are free when accompanied by an adult. Active military and their families are free with ID.
All proceeds are used by the New Hope-Solebury Community Association to fund local community organizations and charities. Since 1949, the New Hope-Solebury Community Association has donated over $1.3 million to local causes and education. Thank you for your support over the years.
Show hours.
The show opens to the public at 9 am each day and closes at 4 pm.
Parking.
On site parking is $5.00 and can be accessed from the Route 202 spur road at Hardy Bush Way. If traveling north on Route 202 it will be just prior to the New Jersey Bridge. If traveling from New Jersey heading south on Route 202 you will take the first exit to Route 32 South just over the bridge, make the second right onto the 202 spur (south). From the center of New Hope follow Route 32 (River Road) North and turn left on the 202 spur (south). Look for the signs on the surrounding roads as you enter New Hope from any direction. Please follow the directions of the traffic police and the parking lot staff. Shuttle buses will be running all day long to take you to and from the show.
There will be two pedestrian visitor entrance gates on Bridge Street for those walking in from the center of New Hope.
Some regulations for our visitors.
COVID-19 rules and regulations in compliance with applicable federal, state, and local directives will be widely posted throughout the event venue. We will observe all pandemic regulations in effect at the time of our show.
Respect the Ride. For the car show novice, we encourage you to "Look But Don't Touch!" as you vote for your favorite car. Vehicle owners will be more than happy to answer questions and demonstrate things for you.
In order to reduce the chance of damage to show vehicles, parents are expected to properly supervise and control small children and strollers.
Alcoholic Beverages and Tobacco Use – Because the show is conducted on school grounds, consumption of alcoholic beverages and the use of tobacco products in any form are strictly prohibited at all times. State and local regulations prohibit any exceptions to this policy.
Animals – Trained service animals are permitted, and are defined as only dogs, regardless of breed, specifically trained to assist a person with a disability. Pets, emotional support, and other animals are not permitted.
Bicycles, skateboards, scooters, hoverboards, and other similar personal transportation items are not permitted within the show grounds.
We offer a different show each day.
Saturday is our domestic day. In addition to our regular domestic classes, this year we're adding Rods, including Hot, Rat, Street, Restomods, and Custom. Saturday will also have a class for Replicars, as well as a Display Only class for those vehicles who don't fit our other classes.
Sunday is our foreign day. All our regular foreign classes will remain virtually the same, but we've separated Aston Martin, Ferrari, Lamborghini, Maserati, and McLaren into their own individual classes. We've also added a Tuner class.
This year you'll be the judge.
Because of the pandemic, our judges were not able to meet to prepare for our 2021 Show. So this year we are letting you, the spectator vote for your favorite car in each category using just your smartphone. Take a look. Our expert judges will return for our 2022 show.
Please remember to vote for your favorite vehicle in each class by using your smartphone and CarShowPro. The vehicle that gets the most votes in each class will win a first place People's Choice ribbon.
Each vehicle will have a window placard with the show car owner's name, and vehicle photo and information, as well as a QR code that you can scan to cast your vote.
Saturday, August 14, 2021
Domestic Cars
Senior Cars: All national prize winners to 1995
Cars thru 1919: All makes and models up to 1919
Cars of the 20s – 30s: All makes and models 1920-39
Cars of the 40s – 50s: All makes and models 1940-59
Cars of the 60s: All makes and models 1960-69
Cars of the 70s: All makes and models 1970-79
Cars of the 80s: All makes and models 1980-89
Cars of the 90s: All makes and models 1990-95
Auburn/Cord/Duesenberg/Pierce-Arrow/Packard: All years and models (authentic only)
Classic: Autos recognized by the Classic Car Club of America
Chevrolet Camaro: All to 1995
Chevrolet Corvair: All years
Chevrolet Corvette: All to 1995
Dodge Viper: All to 1995
Fire Engines: All to 1995
Ford Mustang: All to 1995; stock or restored only
Ford Thunderbird: All to 1995
High Performance Production: All American makes thru 1995; stock or restored only
Historically Preserved Original: Domestic thru 1995 (Photo must accompany registration)
Lincoln: Lincoln, Continental, Zephyr: 1921-1995
Military Vehicles: All to 1995
Model "A" Fords: All years
Model "T" Fords: All years
Motorcycles: All domestic to 1995
Nash: All years
Professional Specialty Cars: Cars modified for use as coaches, rescue vehicles, & ambulances to 1995
Racing Cars: Authentic cars
Replicars: Replicas of iconic automobiles and sports cars
Rods: Hot/Rat/Street, Restomod, Custom
Shelby: Original and Continuation Cobras, Series 1, Shelby Ford, Shelby Dodge, Mustangs all years
Studebaker: All models, including Lark & Avanti – all years
Trucks: All light and medium duty to 1995
Woodies: All makes & models (no simulated wood)
Display Only: Photo required
Sunday, August 15, 2021
Foreign Cars
Senior Cars: All national prize winners to 1995
Foreign Other: up thru 1995 not otherwise classified
Alfa Romeo: All years
Aston Martin: All years
Austin Healey: All years
BMW: All models thru 1995
Datsun/Nissan: Z Cars to 1996
DeLorean: All years
Exotics: e.g., Acura NSX, Bugatti, DeTomaso, Pantera, Ford GT/GT40, all years
Ferrari: All years
Fiat/Lancia/Autobianchi: All years to 1995
French Connection: Citroen/Facel Vega/Peugeot/Renault; all years to 1995
Historically Preserved Original: Foreign thru 1995 (Photo must accompany registration)
Jaguar: All models thru 1995
Lamborghini: All years
Lotus: All years
Maserati: All years to 1995
McLaren: All years
Mercedes Benz: All models thru 1995
MG: All models and years
Military Vehicles: All to 1995
Morgan: All years
Motorcycles: All foreign to 1995
Porsche: All models thru 2000
Racing Cars: Authentic cars thru 2000
Rolls-Royce/Bentley: All models & years
Triumph: All years
Tuner: limited to extensively modified cars appearing on the Tuner Car list below
TVR: All years
Volkswagen: All years to 1995
Display Only: Photo required
Tuner Cars
Sunday's new Tuner class is specifically limited to extensively modified vehicles of the makes and models on the following list: Acura Integra, RSX, NSX*; Audi Allroad, Quattro, TT, S Line, RS Line, R8*; BMW M Class, Z Class, 3 Series; Datsun 510, 240Z, 260Z, 280Z, 300ZX; Dodge Shelby Models; Eagle Talon; FIAT 500, 500X; Ford ST and RS Models; Honda Civic Si, Civic Type R, CR-X, Prelude, S2000, NSX; Hyundai Veloster Turbo, Veloster N, Tiburon; Infiniti G35, G37; KIA Stinger GT; Lexus RC-F, IS Class (2005 or older), GS Class (2004 or older), SC300/400; Mazda RX Class, MX Class, Mazdaspeed Class; Mercedes-Benz AMG (All models except SUV); MINI Cooper S, John Cooper Works; Mitsubishi Eclipse (except SUV), Lancer Evolution, 3000GT, Starion, Galant VR-4; Nissan 240SX, 300ZX, 350Z, 370Z, GT-R, Maxima (2003 or older), Sentra SE-R (2006 or older), Skyline, Silvia; Porsche (All years/models); Scion tC, FRS; Subaru: WRX/STi, Legacy RS, Forester XT & STi, BRZ; Toyota Celica, Corolla AE86/GT-S, Cressida, GT86, MR2, Supra; Volkswagen Corrado, Scirocco, Golf, GTI-Line, R-Line; Volvo 240, 242, V50, S60. NHAS Staff reserves the right to modify this list at any time. A legible front 3/4 photo of your vehicle MUST be uploaded with registration.
*Unmodified Acura NSX and Audi R8 may register in the Exotics class.