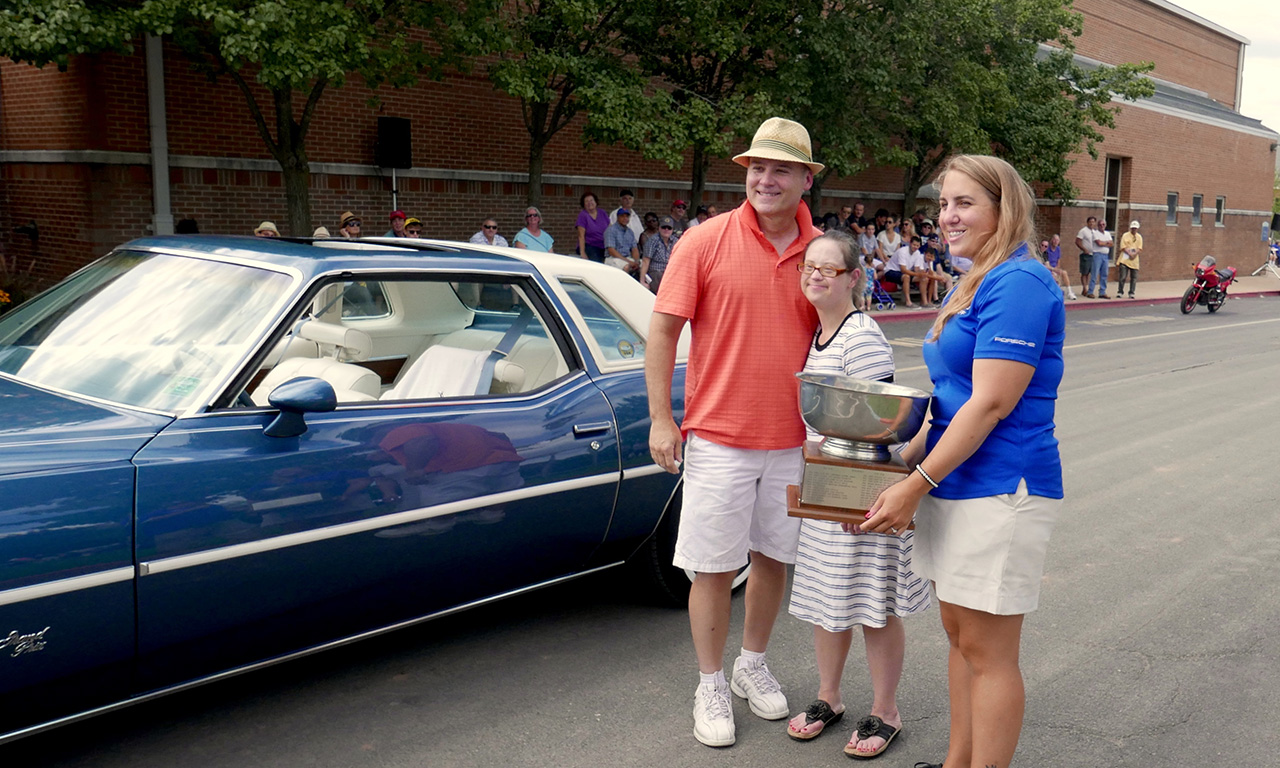 Special awards.
Governor's Cup
Best in Show Post War
Michael Ford 1977 Grand Prix
Burch & Jones Award for Best Corvette
Joseph Pukala 1956 Corvette
Jack Hopson Award for Best Mustang
Michael Szczepanski 1970 Boss 302 Mustang
Thomas E. Mellon Award for Best Mercedes Benz
Terry Spaeth 1971 280SL Mercedes Benz
Seniors
Thanks to all of our Senior Car owners. Your cars are the best of the best! We are proud and honored to have your vehicles exhibited at our show each year.
George Elder 1958 Chevrolet Impala
Michael Ford 1977 Grand Prix
Larry Katz 1968 Chevrolet Camaro
Larry Katz 1971 Oldsmobile Cutlass S
Jeff & Megan Lampinski 1968 Triumph GT6 MK 1
James Lesher 1957 Austin Healey 100-6
James Melson 1930 Ford Model A
Scott Nickett 1965 Ford Fairlane
Ira Pitel 1914 Detroit Electric
Michael Riebe 1955 Chrysler New Yorker Deluxe
William Schulz 1964.5 Ford Mustang
Jack Steczak 1969 Camaro SS
Anthony Years 1968 Pontiac Grand Prix
Ed & Monica Ziobro 1969 Ford Mustang
People's Choice Award

Ed McCann 1957 Chevrolet Bel Air
Raffle winners.
Congratulations!
Below are winners of our raffle:
Shop Local New Hope Basket
Bob Gaynor

Berg Racing Pedal Go-Cart
Matt Forsthoffer

Basket of Dog Treats
Bob Gaynor
2017 Winners.
Senior Cars
3rd place – Michael Riebe 1955 Chrysler New Yorker Deluxe
2nd place – Jeff & Megan Lampinski 1968 Triumph GT6 MK I
1st place – Michael Ford 1977 Grand Prix
Vintage Antique
1st place – Bernard Peach 1913 Stephens Duryea
Cars of the 20's – 30's
2nd place – Dan Diaz 1930 Model A
1st place – Charlie Halpin 1939 Buick Roadmaster
Cars of the 40's
3rd place – Bill Wilcox 1948 Chevrolet Fleetwood Coup
2nd place – Richard Stover 1948 Pontiac Streamliner
Cars of the 50's
3rd place – Ross Schempp 1957 Chevrolet Bel Air Nomad
2nd place – Jon Fiorvanti 1950 Chevrolet Bel Air Convertible
1st place – Ed McCann 1957 Chevrolet Bel Air
Cars of the 60's
3rd place – Karen Waldon 1969 Chevrolet Camaro RS SS
2nd place – Bill O'Donnell 1969 Mercury Cougar Eliminator
1st place – Dan Politsky 1969 Chevrolet Malibu
Cars of the 70's
3rd place – Stephen Edgerly 1978 Ford Ltd. Landau
2nd place – Paul Shotmiller 1971 Olds Cutlass SX
1st place – Bill O'Donnell 1971 Pontiac Trans Am
Cars of the 80's
3rd place – Denise Vasey 1987 IROC-Z
2nd place – Edward Fox 1986 Regal T-Type
1st place – Kevin Keenan 1982 Rivera
Alfa Romeo Closed Cars
2nd place – William Conway 1982 GTV6
1st place – Jeff Brown 1979 Sports Sedan
Alfa Romeo Open Cars
2nd place – Tim O'Riordan 1959 2000 Spider
1st place – Dean Nichols 1971 Spider Veloce
Antique Motorcycle
1st place – Ronald DiFranco 1987 Moto Guzzi LeMans
Antique Trucks
3rd place – Alex Doestling 1990 Mercedes Benz 250 GD Truck
2nd place – Kevin Hamilton 1978 Toyota
1st place – Roy Lugertazza 1951 Ford F-1
Auburn/Cord/Duesenberg/Pierce-Arrow/Packard
2nd place – Richard Wainwright 1928 Packard Roadster
1st place – EJ Moser 1937 Packard 115C
Austin Healey
3rd place – David Siwa 1960 Sprite
2nd place – Steve Kahn 1967 3000
1st place – Allen Kramer 1960 Sprite
BMW
3rd place – Roger Sternfeld 1973 BMW 3.OCS
2nd place – David & Mary Penick 1973 2002 tii
1st place – Gary Bossert 1989 M3
Corvair
1st place – Bill Josuweit 1964 Corvair Spyder
Corvette (1953-1962)
2nd place – Tom Trezsniowski 1960 Corvette
1st place – Joe Pukala 1956 Corvette
Corvette (1963-1967)
2nd place – Mike Ornstein 1966 Corvette
1st place – Stephen Worth 1963 Corvette
Corvette (1968-1973)
2nd place – Steve Magaruh 1969 Corvette
1st place – Adam Re 1969 Corvette
Datson/Nissan
3rd place – Diego Perri 1989 300 ZX
2nd place – Greg Giacchi 1976 280Z
1st place – Randy Spaide 1985 300 ZX
Foreign Exotics Early
3rd place – Larry De Giacomo 1973 Maserati Merak
2nd place – David Rothenberg 1990 Ferrari Mondial T
1st place – Ken Swanstrom 1967 Lancia Flaminia Zagato
Foreign Exotic Late
3rd place – Bob Kerekes 2006 Bugati Veyron
2nd place – James Martin 2009 Austin Martin DB9
1st place – Paul Ruo 2015 Maserati Quatroporte 2E9NA
High Performance Production
3rd place – Steve Goscinsky 1964 Pontiac GTO
2nd place – Richard Stuck 1957 Ford Custom Tudor
1st place – Chris Saur 1963 Plymouth Savoy
Historically Preserved Original
2nd place – Gene Epstein 1954 Cadillac
1st place – Richard Stein 1990 Saab 900 Turbo Convertible
Jaguar
3rd place – Noe LaFramboise 1955 Jaguar XK 140
2nd place – Rich Rosen 1971 Jaguar E-Type
1st place – Steve Wouch 1974 Jaguar XKE
Lincoln Continental
1st place – Carl Villone 1978 Continental Mark V
Lotus/ Classic
3rd place – Bryan Boyle 1971 Europa S2
2nd place – Glen Schostak 1964 Elan S1
1st place – Karl Darby 1962 Seven S2
Lotus/Modern
3rd place – Steve Ujvari 2012 Evora S
2nd place – Tom Bohner 1998 Espirit
1st place – Lee Klauber 2011 Elise R
Mercedes Benz
3rd place – Daniel R. Kelly 1969 280SL
2nd place – Ros Wilson 1968 250 SL
1st place – Terry Spaeth 1971 280 SL
MG
3rd place – Ken Samen 1977 MG Midget
2nd place – Alan Brown 1974 MGB
1st place – Christopher Bacon 1957 MGA
Morgan
2nd place – Jim Vollmuth 1952 Morgan +4
1st place – Mark Podob 1967 Morgan +4
Mustang
3rd place – John Kaminski 1970 Boss 302
2nd place – Fred Vocke 1969 Mach 1
1st place – Michael Szczepanski 1970 Boss 302
Porsche
3rd place – Roger Jones 1989 944 S2
2nd place – PJ Jacobs 1966 912 Coupe
1st place – Gerd Lengfeld 1998 933 Carrera Convertible
Racing Cars-Domestic
2nd place – Jim Staats 1940 Kurtis Kraft Midget
1st place – Bill Connery 1952/62 Miller Lotus
Racing Cars-Foreign
2nd place – Jeremy Fergusson 1965 Lotus Super Seven
Rolls Royce/Bentley
Pre War Open
1st place – David Browne 1922 Silver Ghost
Pre War Closed
3rd place – Mike Ziegler 1999 Silver Seraph
2nd place – Ed & Lori Ardis 2004 Phantom
1st place – John Palma 2004 Continental GT
Post War Open
1st place – Bruce Buratti 1989 Corniche II
Shelby
1st place – Mauricio Bohner 2017 GT 350
Specialty Class Cars
3rd place – Steve & Carol Neubaur 1958 Messerschmitt
2nd place – Dan Sarandrea 1986 Bertone X-1/9
1st place – Don Meluzio 1954 Fiat 1100-103TV
Studebaker
2nd place – August Daub 1956 Golden Hawk
1st place – Andrew Kavulich 1951 Land Cruiser
Thunderbird
3rd place – John Duffy 1976 Ford Thunderbird
2nd place – Wes Levonian 1955 Ford Thunderbird
1st place – Jeff Abate 1957 Ford Thunderbird
Triumph
3rd place – Robb Francis 1957 TR3
2nd place – Alex Lynch 1962 TR3A
1st place – Fred Brown 1972 TR6
TRV
3rd place – Jim McGowan 280i
Viper
3rd place – Ron Mule, Jr. 1997 Viper
2nd place – Michael Landau 2002 Viper
1st place – Christian Joseph 2006 SRT-10
Volkswagen
3rd place – Dean Dickson 1972 Beetle
2nd place – Gary Solarz 1963 Karmann Ghia Coupe
1st place – Nelson Roger 1957 Beetle
Special Interest
2nd place – Rob Weidemoyer 1967 Shelby 427 Cobra Replica
1st place – Paul Buzzi 2014 Mercedes Benz SLS AMG GT